Some of which you already know, some of which, even if you have never seen before, can guess, and some of which you have never before been acquainted with, nor have any idea of their true meaning. Nothing to worry about, as we are more than happy to explain all of these terms to you, in a simple, short, and concise manner.
That is precisely what this comprehensive slot glossary is useful for, as it holds all of the various terminology which you, as a slot player, will need to know, so you can fully enjoy your playing experience, and hopefully makes some cash in the process as well!
Let's 'B'-egin…
Bet – To place a bet means to wager (stake) a certain sum of money on the outcome of a spin in the slot game which you've chosen. As the player, you determine just how much you are willing to place each time, then you proceed by spinning the reels, to see if you have won the bet, and how much you will get.
Bet Max (you will need to see 'Max Bet' for this one).
Bonus Features – Basically, these are online slot features which reward the player all kinds of goodies. Such features can include just about anything, from something simple like a free spin, to an entirely new (bonus) game. It even offers you the opportunity to win a jackpot!
Bonus Video Slots – These are special games which feature an additional bonus game that's not necessarily in the reel slot format. Rather, it could offer a minor video game, which also comes with video bits as well as sound bites, where you, as the player, wager on the outcome.
Flat-Top Slots – What these are, are non-progressive slots which offer a constant top-payout that isn't influenced neither by the amount of money which has been accumulated, nor how many times a certain game has been won.
Free Spins – To put it simply, this means the ability to spin again, without losing any credits. This is one of the most-often offered bonus features.
Fruit Machine – Quite a common calling for a slot machine when it comes to the United Kingdom. This name originates from back when most of the slot machines which were in Britain were 3-reel slot machines with images of fruit on their reels. The player was required to match these fruits so they can win.
Hit – To 'hit' means to win the spin in your chosen slot game. The 'small hits' are those wins which win you back your sum (the one you bet on that spin), for example. As for the 'big hits', these can include , as you would imagine, bigger payouts, including, at times, winning the jackpot!
Jackpot – Speaking of which, this is the top-prize which the player could win while playing slot machines. What it usually is, is a hefty sum of money (see also 'Progressive Jackpot'). This term probably has its roots from a different gambling game – namely, from poker, where the "pot" (meaning 'pool of wagers') kept on accumulating, up until any player was able to open this game with 2 Jack cards.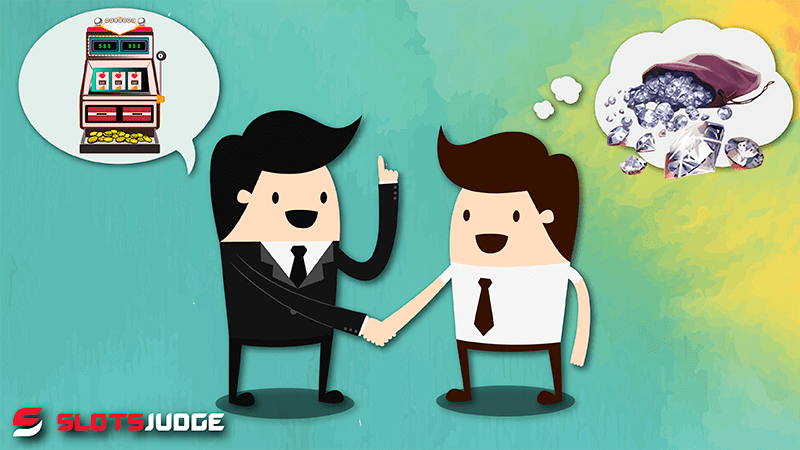 'M'-oving On…
Max Bet – This means placing the biggest (maximum) amount of credits which you, as the player, are allowed to place per spin in your game. This is what the 'Max Bet' button on your game screen is for – it allows you to easily activate this maximum bet. Many of the slot games require the player to use this Max Bet, for them to potentially win the biggest payout.
Multiplier – Plain and simple, these are symbols which increase your winning sum. For instance, if the player's spin ends in a payout and happens to include a multiplier symbol, then those wins would be multiplied. And should the payout include, say, a X3 multiplier, these winnings would be multiplied 3-fold!
Online Slots – This is referring to you playing slot machine games, you guessed it, on the Internet. Online slots are gaining more and more popularity as time goes by, and are divided between the download slots, in which the player downloads a client to their computer, or instant play, in which the player connects directly to a particular online casino's website, and thus, play on-site.
Pay-line – Quite an important and basic term to know, this is the line in your game which determines just how high the specific payout will be.
Payout – Speaking of which, this represents the amount in which your slot game awards you for every specific win.
Payout Percentage – This is basically the amount of money that is returned by a slot machine to the players over a specific time period.
Pay Table – This is the term for the board which lists all the available payouts in a slot game for every winning symbol combo.
Pokies – This rather cute term is used for online slots when it comes to Australia. The explanation behind it is that this is the shorter version of the usual term "poker machine".
Progressive – Slot games that include a particular jackpot which can continue growing in each spin, up until there's a winner. And once the jackpot has been reset to the minimum amount, it begins with accumulating a new money sum.
Wait, There's Even Mo'R'e!
Random Number Generator – What this is is a type of computer software which ensures that all the game results are totally random. It does this by generating the numbers which determine the position of these reels, as well as the game odds, and even the payouts. This is also often called RNG, for short.
Reels – Also another key term, these represent the spinning wheels that are the most important feature of the slot game. Earlier slot games offered three mechanical wheels, along with symbols and images painted on these. The player enabled the reels and waited in order to see in which position these reels will stop. If the player ended up with 3 identical symbols on their reels, then they came out the winner of the round.
Likewise, the modern online slots borrowed this design from the mechanical reel games, except they 'improved it', by offering 5-reel, or even 7-reel games, along with many more symbols added.
Scatter Symbols – These are special symbols which are located absolutely anywhere on the slot's reels and can trigger a winning combo with some bonuses, such as multipliers or cash prizes, and this, even without having to be on an actual pay-line.

Wilds – These are also special symbols which can be substituted for any (or, at least, most) of the other symbols, all for the sake of completing a winning pay-line combo. These symbols are quite similar to the Joker, when we are talking about card games.
Winning Combination – It pretty much speaks for itself. This is the combination of symbols on an active pay-line which triggers a win!
Conclusion
We certainly hope that this glossary will be of use to you, and that know you are ready to take on the world of both on-site
casinos
, as well as
online slot machines
. We wish you the very best of luck in all your playing endeavors!