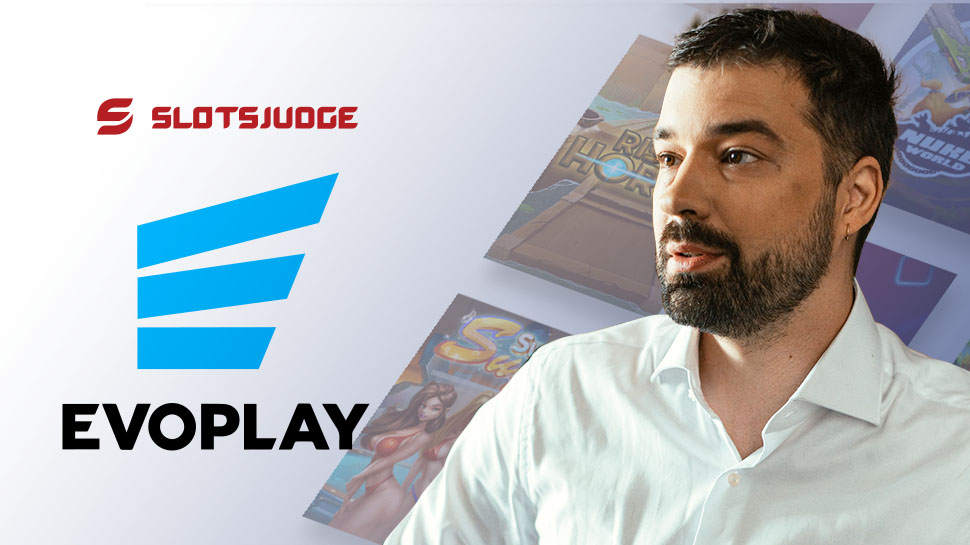 Hi, Ivan, and thank you for joining us for this interview, first for those who aren't aware of Evoplay and your huge selection of innovative titles. Could you tell us more about yourselves?
Evoplay is recognised as a leading provider of state-of-the-art iGaming titles, with the business establishing itself as a real innovator in recent years, consistently delivering high-quality gaming experiences that stand out in an increasingly crowded space.
Players know us as a developer that never ceases to impress, focusing on creating slots, table, and instant games that deliver fun and entertainment but can also be returned to time and time again. With our current portfolio comprising a wide variety of titles suited to every demographic, there truly is something for everyone.
Players who prefer classic aesthetics but also enjoy innovative high-tech slots can try out our iconic Fruit Super Nova Collection with variable paylines, while those drawn to video games and third-person shooters will be more interested in our flagship game, Star Guardians. For lovers of sport, we have even created several sports-themed instant games that deliver the same level of excitement as traditional wagering on sports events.
Our titles are filled with modern gamification tools such as Bonus Buy, Jackpot features, and our in-house innovations - multiplayer modes and an integrated skill-based mechanic, in a bid to deliver action-packed gaming experiences that go above and beyond customer expectations.
Burning Aces, your recent fruit machine-inspired release, has proven to be a hit with players. Could you tell us more about this game?
Evoplay has always been recognised for its unparalleled ability to satisfy the needs of retro slot followers, offering them the very best in terms of innovative features and rich designs.
Burning Aces is a Vegas-style slot that serves as a shining example of how we can liven up old-school games by making them more visually appealing and by adding features that complement the classic design. The title delivers a fruity escape plugged with interesting mechanics, including an expanding Wild symbol and four-level jackpot, which heats up the process and boosts the potential for big wins.
You recently won multiple awards at the CasinoBeats Summit in Malta, congratulations what awards did you win and what titles helped you gain such prestigious awards?
I cannot stress it enough that Star Guardians – the revolutionary game which has picked up two award wins at this year's CasinoBeats Game Developer's Awards – is an absolutely gamechanger for the industry.
It picked up an award in the 'Game Design and Art Direction' category and finished second for 'Game Innovation', with the product pricking up recognition as a prolific title heavily inspired by video games. By developing Star Guardians, we have completely reimagined what a slot can look and feel like, turning it into a manually controlled shooter game with an enthralling storyline and all the fundamentals of a strong slot title.
In the game, players immerse themselves in the universe of futuristic space adventures, joining a Special Forces team in their battle against mutated insects. The slot's outcomes are based on a random number generator, ensuring that the product remains a game of chance.
Many studios describe themselves as 'innovative' but Evoplay has truly taken the concept of creating slots that push industry boundaries to another level, what innovative features, themes and games have earned you such a great reputation?
Evoplay has established itself as an ambitious developer which isn't afraid of diving into challenging products and investing significant resources into them after conducting considerable amounts of research. Our approach has paid off time and time again, with our bravery to invest in innovations that other developers wouldn't even consider paying dividends. We want to continue bringing fresh ideas to what is quite a conservative gambling community, finding inspiration in video games and other similar industries that are gold mines of excitement for players.
Another aspect that sets us apart is our talented team, the majority of whom are enthusiastic gamers and therefore understand the core principles of entertainment from the user's perspective. They know the industry's ins and outs and can speak for hours about their favourite titles, helping us to look at the gaming process from the standpoint of the player.
Could you provide some detail as to how a game is developed when made by Evoplay? How long are these high-quality award-winning titles in development and what steps are in place during the development cycle before the finalised product we play?
The crucial process has a lot of layers to it, including the research and establishment of a concept, development of mechanics, creation of a technical document, the mathematics and game development itself and that includes the creation of visual design - art and animations, enhancement of graphics and sounds, and lastly, testing.
That said, the length of time that it takes to complete each stage will vary depending on the game type and budget. 3D games, for example, require considerably more time and detail than more traditional titles since they are more complicated to develop, and therefore require additional team members to bolster the process.
What does the rest of 2022 hold for Evoplay? Do you have any games on the horizon you could tell us about?
As always, we will continue to work on new products that have the potential to become the next big thing in iGaming. This year is going to be marked by many more exciting releases with new mechanics and storylines as we continue to diversify our portfolio, catering to Esports lovers and so much more.
It is too early to reveal our cards, but it can go on record that we have something really special lined up for our customers. Keep your eyes peeled!