1 Reel Baba Yaga Free Play
By clicking I confirm that I am 18+
The demo failed to load?
Best Casinos to Play 1 Reel Baba Yaga for Real Money
If you want to play 1 Reel Baba Yaga for real money, there are various online casinos to choose from. We have carefully chosen the best casinos that offer this slot game, based on factors such as player experience, bonus offers, and reputation. You can check them out and choose the one that best suits your preferences.
Furthermore, playing 1 Reel Baba Yaga for real money at these casinos offers you the benefit of various bonuses and promotions such as free spins, welcome bonuses, cashback offers, and more. Don't miss out on the opportunity to try this exciting slot game for yourself at one of our recommended online casinos.
How to Play
Firstly, set the bet size by clicking on the coins image located on the left side of the screen in the 'Bet' field
Commence the game by pressing the 'Spin' button
If you obtain a symbol on the playing field, you will be awarded a payout according to the table of progressive multipliers beside the playing field. Your winnings will be shown in the 'Bank' field
You can collect your winnings by clicking on the 'Collect' button, or continue playing with the accumulated pot by clicking on the 'Spin' button, attempting to acquire higher multipliers
It is crucial to remember that if you receive a black cat 'reset bank' symbol during the game, you will lose your winnings
The 1 Reel Baba Yaga slot machine has a 1x1 playing field and 1 payline. Regarding gaming bets, the minimum bet is €0.01, and the maximum bet is €10 per spin.
1 Reel Baba Yaga RTP and Volatility
The RTP rate of 1 Reel Baba Yaga is 91.55% with high volatility.
The RTP (Return to Player) and volatility are 2 significant factors that can impact a player's experience in a slot game such as 1 Reel Baba Yaga.
The RTP of 91.55% indicates that, on average, for every €1 bet, the game will pay back €0.9155 in winnings. It is essential to keep in mind that RTP is a theoretical percentage, and actual results may vary significantly in the short term. However, over time, the game should pay out at this rate.
Meanwhile, the game's volatility is high, meaning that it has a higher risk-reward ratio. Players may experience more extended periods without winning, but when they do win, the payouts can be significantly more substantial. This type of game is typically preferred by players who are willing to take higher risks for the chance of bigger rewards.
In conclusion, although the RTP of 1 Reel Baba Yaga is lower than some other games, the high volatility adds excitement to the gameplay and can lead to significant payouts for players who are willing to take the risk.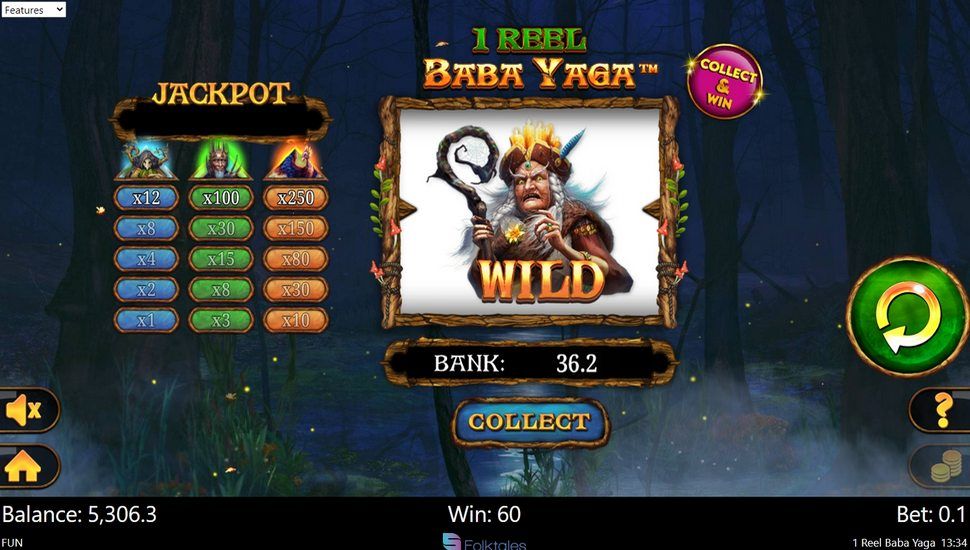 1 Reel Baba Yaga is an exciting and captivating slot game with a unique Eastern European folklore theme. The game features a variety of vibrant and bold colours, as well as a dark and enigmatic forest background that serves as the setting for the game.
The sound effects are immersive and complement the overall gameplay experience. The background music has a folkloric, traditional quality that emphasises the game's theme. Reel spinning and winning combinations are also accompanied by lively sound effects that keep players engaged and entertained.
The game includes 3 standard symbols: a white-faced monster, Koshchei, and a phoenix. The prize values for white-faced monsters range from 1x to 12x for obtaining from 1 to 5 symbols in a single game round. Prizes for Koshchei range from 3x to 100x, while phoenix prizes begin at 10x and increase up to 250x for five symbols in a single game round.
Additionally, there are Baba Yaga wild symbols available, which count as one of each symbol per turn. Lastly, a symbol that you might already be familiar with is the black cat 'reset bank' symbol, which will nullify your winnings.
Mobile Compatibility
1 Reel Baba Yaga is fully compatible with mobile devices and optimised for smartphones and tablets. The gameplay is just as smooth on mobile devices as on desktop computers, with high-quality graphics and sound effects.
The game uses modern HTML5 technology, which allows it to adapt to different screen sizes and resolutions, ensuring that players have the best possible user experience, regardless of the device they use.
Moreover, the game's interface is designed for easy navigation on mobile devices, with large, easily clickable buttons that make it simple to place bets and spin the reel. Overall, players can enjoy the same gameplay on a mobile device as on a computer, providing them with the flexibility to play wherever and whenever they want.
About Spinomenal
Spinomenal is a reputable software provider that was established in 2014 and has gained significant recognition in the online gaming industry. They offer a broad range of HTML5-based video slots, table games, and scratch cards with unique features, high-quality graphics, and engaging gameplay. Spinomenal's games are renowned for their high RTP rates, great bonuses, and fast loading times, which make them popular among players.
Some of Spinomenal's other popular slots include Book of Rebirth, Demi Gods II, Lilith's Passion, and Majestic King. With over 460 games in their portfolio, Spinomenal is a well-established provider that continues to develop innovative and exciting games for the online gaming market.
Bonus Rounds & Free Spins
Progressive Wins
As previously mentioned, there are 3 standard symbols in this game: the white-faced monster, Koshchei, and phoenix. These symbols can result in progressive winnings, and their respective win tables will increase to a higher level of the multiplier when they appear on the reel.
The win tables will continue to increase as more symbols appear, and players can collect their winnings at any time. As more standard symbols drop onto the reels, players' banks will increase in size, and they can collect winnings from all standard symbols in the same game round.
It is significant for players to collect their winnings before spinning the reels and encountering the 'reset bank' black cat symbol, which will cause them to lose all their winnings. Additionally, if the reels spin and no symbol appears, no funds will be added to the bank.
1 Reel Baba Yaga Demo Play
The Reel Baba Yaga demo play enables users to try out the slot game without having to spend any money. On this page, players can experiment with the free version of the game and become familiar with the gameplay. This is an excellent way for players to determine if they like the game before deciding to play for real money.
Max Win
The maximum payout in the 1 Reel Baba Yaga slot is 500x.
The maximum payout of 500x is awarded if players can land 5 symbols of each standard symbol in the same game round without ever landing a black cat 'reset bank' symbol. It's a tough task, so you'll need to be very patient as there are no extras that would help you to reach the top win faster.
In conclusion, the slot game 1 Reel Baba Yaga from the provider Spinomenal is an intriguing game that blends elements of classic and modern online slots. The game's design, with its simplicity and heavy use of Baba Yaga imagery, is visually pleasing and exciting. Additionally, the progressive wins mechanism adds to the excitement of gameplay and somewhat makes up for the absence of typical bonus features.
As a result, 1 Reel Baba Yaga is an excellent slot machine that is sure to appeal to both classic and modern slot fans alike.
Hits
The minimum bet is only €0.01
Misses
The maximum win is only 500x
1 Reel Baba Yaga Slot - FAQ
Can I play 1 Reel Baba Yaga on other devices?
Yes, you can play 1 Reel Baba Yaga on various devices including mobile phones, tablets, laptops, and desktop computers. However, make sure that your device has a stable internet connection to ensure smooth gameplay.
What is the most valuable symbol in 1 Reel Baba Yaga?
The most valuable symbol in 1 Reel Baba Yaga is Baba Yaga herself, which is the wild symbol in the game, and her appearance is counted as landing 3 winning symbols at the same time.
What is the Return to Player (RTP) rate of 1 Reel Baba Yaga?
The Return to Player (RTP) rate of 1 Reel Baba Yaga is 91.55%.
Rate this slot and leave a review