Cricket Crash Free Play
By clicking I confirm that I am 18+
The demo failed to load?
Best Casinos to play Cricket Crash for real money
It is best to play all hot crash games, including Cricket Crash by Onlyplay, in the best casinos as on these sites, you will get a safe and fair game, plus a lot of advantages. First, you can play Cricket Crash free or for real money, plus, for each bet you make, you will receive points from the casino which can be exchanged for VIP status. Also, for a deposit, you can activate a welcome bonus and spend it on top slots. Secondly, the best casinos from the Slotsjudge list contain all the available real-money crash games.
Cricket Crash Overview
Cricket Crash by Onlyplay is a real-time multiplayer crash game. There are no reels, lines, or complex combinations in this slot machine. On the main screen, you will be greeted by a virtual Cricket match, a betting section, and a table of winners. It doesn't matter if you run Cricket Crash crash game free play or for real money, you need to determine the size of the bet, set auto cashout if you wish, wait for the game to start, and catch the perfect moment to collect the payout until the ball explodes. The start of the game starts from 1x and the longer the ball flies, the greater the multiplier.
Cricket Crash RTP and Volatility
In a multiplayer game Cricket Crash, RTP is 95%. This rate of return is optimal, given that the game has progressive jackpots. As for the volatility, it's high as it's a crash game and these games usually have very high potential. In general, a return of 95% is an excellent percentage for playing for real money.
The maximum amount you can win
There are no multiplier limits in Cricket Crash, so gamblers get a chance to hit a very big win. In the end, it all depends on your fortune and endurance. We hasten to please one more piece of news, the game has a progressive jackpot which can be received by all users in a random order. The higher the bet, the higher the percentage of the jackpot you will receive.
How to play Cricket Crash
In order to play Cricket Crash demo or for real money, first, you need to choose the best casino and register there. After you make your first deposit, you can start playing the crash game:
Open Cricket Crash by Onlyplay and explore the gameplay and layout of all sections
In the right corner, there is an 'Info' section where you can read the rules, plus, you can turn off the sound in this part of the screen
On the main screen, you will be able to watch virtual Cricket, and below, there will be a list of recent wins. Also, you can send emoticons there
Below the main screen, there are 2 independent windows where you can place bets from €1 to €50. There, you need to choose a bet for one game
In the betting window, you can set autoplay and auto cashout
To start the game, you need to click Place Bet and wait for the match to start
When the game starts, you need to watch the ball and have time to withdraw money before the ball explodes
In the right corner of the screen, you can see the table of the total or your bets
Cricket Crash features
Cricket Crash takes the crash game to the next level as the Onlyplay provider offers high-quality graphics, a progressive jackpot, and a bonus feature.
Cricket Crash by Onlyplay is a unique multiplayer game where you can make 2 independent bets. The mechanics of the slot will allow you to get an unlimited multiplier and activate a bonus that will increase the percentage of your result. Next, we will talk in more detail about the mechanics and features of the game.
Crash Gaming Mechanics
The mechanics of Cricket Crash by Onlyplay don't have reels or complex combinations of symbols, you need to place a bet and then find the perfect moment to collect your winnings before the ball explodes. Cricket Crash reviews from experienced gamblers prove that in order to learn how to play such software, you need to play a demo version several times. Keep in mind that it happens that in the first seconds of the game, the ball can explode, so always keep an eye on your statistics and general statistics in order to roughly understand how the game works.
Deposits & Cashouts
In order to start playing Cricket Crash by Onlyplay and receive real money, you need to place a bet and withdraw your deposit on time. How to do it:
Place Bet Before starting a new round, you need to determine the bet size from €1 to €50
Auto Players can set an auto-bet to avoid having to return to this section each time
Take This button is responsible for withdrawing money to you, not a deposit. When you feel it's time to take your €, just press 'Take'
Auto Take If you want to achieve specific results, you can set auto withdrawal starting from 1.35x
Double Bet More experienced gamblers can set 2 independent bets for one match, plus, the possibility of auto modes
Theme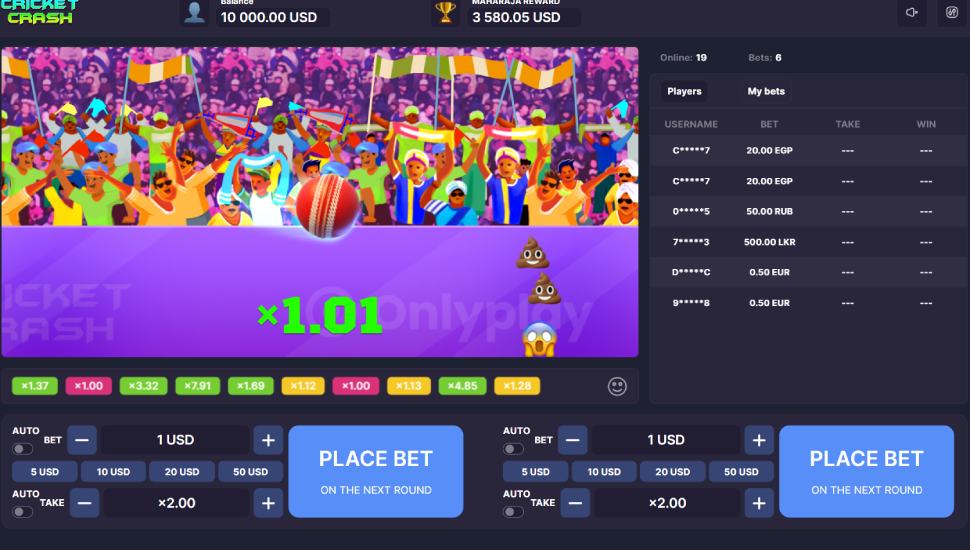 The game Cricket Crash by Onlyplay is dedicated to cricket, so on the main screen, you can watch a virtual throw of the ball. The graphics of Cricket Crash by Onlyplay are done in the best possible way, even when the ball is flying. Also, gamblers can send emoticons to the main screen to express their emotions. In general, the plot of the crash game looks even better than some slots.
Mobile compatibility
Cricket Crash is a mobile-friendly game as it is developed with HTML5, so you can play it on all mobile gadgets without quality loss. Also, this machine can be played on a PC as it is cross-platform.
Cricket Crash Bonuses
The online game Cricket Crash has a random bonus feature that will add 10%, 30%, or 50% to your collected multipliers. Such a bonus is activated randomly and when this happens, the ball will fly into the cloud and fly out with a percentage. The game also has a progressive jackpot which is played randomly among those players who have not yet taken the payout and continue to play. The more you bet, the larger share of the jackpot you will get.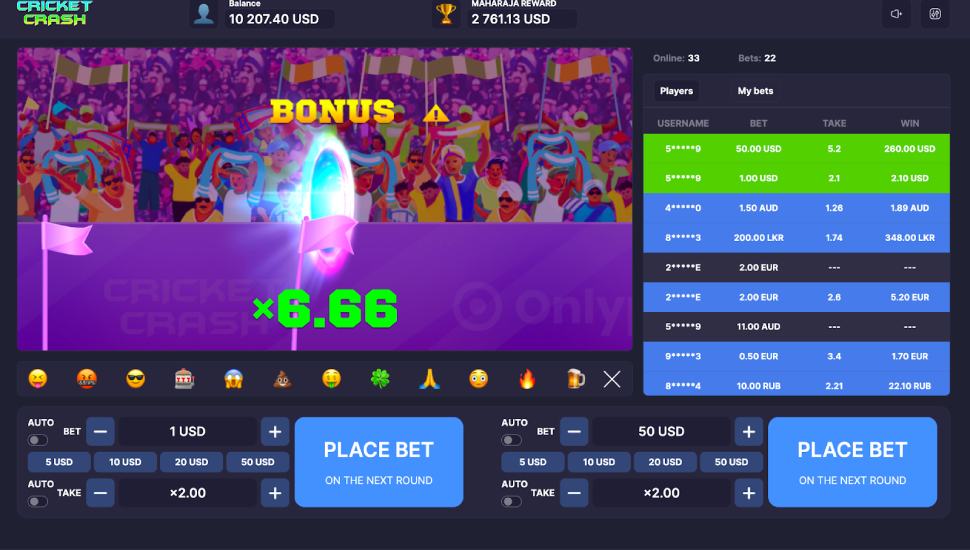 How to win at Cricket Crash
In order to win at Cricket Crash by Onlyplay, you need to place a bet between €1 and up to €50 and wait until the match starts. As soon as the ball appears on the playing field, the multiplier will gradually increase and your task is to take the accumulated money before the ball explodes. Players can set auto stacks and auto withdrawal.
The best Cricket Crash strategy
In general, there is no guaranteed strategy for winning in crash games since the game is developed using a random number generator, so it all depends on your luck. But there are tips for different styles of play and they will add a boost to the gameplay:
Quick and Small wins If you do not like to take risks, you can set a goal for yourself like a specific small multiplier and withdraw money immediately after reaching the goal. You can also analyse your own and others' victories and losses in order to determine the approximate time of the crash.
Win at any cost This strategy is suitable for those who love real excitement: set the auto withdrawal of a specific amount and expect victories.
Cricket Crash by Onlyplay is a great and colourful crash game that has bonus percentages and a progressive jackpot. This type of software is perfect for those who are fed up with long live games. Thanks to instant win mechanics, you can open the game in a few clicks and get both small and large payouts in a matter of seconds.
Hits
There are random bonus percentages
You can make 2 independent bets
Misses
No general chat, only emoticons
Cricket Crash Slot - FAQ
Why does the game have 2 betting fields?
This feature is very useful for those players who like to take risks and get high payouts. For example, in field 1, you can put an average bet, which is not a pity to lose, and in field 2, a higher one so that in case of winning, you get a serious jackpot.
How to start playing Cricket Crash?
To get started, you need to choose a top casino from the Slotsjudge list, then, register and make a deposit. Next, open the game, place a bet, and select a suitable moment to pick up the money in time before a crash occurs.
The progressive jackpot pays out randomly, so it all depends on your luck. Note that the higher your bet, the larger your share of the jackpot.
Rate this slot and leave a review