Lucky Lucifer Free Play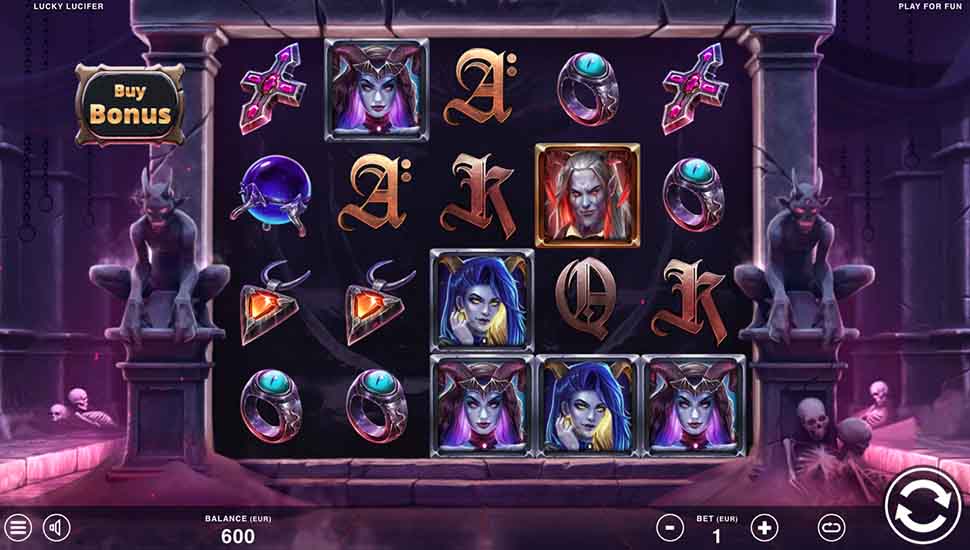 By clicking I confirm that I am 18+

Best Casinos to Play Lucky Lucifer for Real Money
Are you looking for the best casinos with Lucky Lucifer? We've got you covered. Slotmill is one of the more popular software providers in the industry. This means they're cooperating with quite a lot of websites that offer gambling to players. Below you'll find an automated list with the best picks that offer Lucky Lucifer for real money. Feel free to select one of the bonuses as well.
How to Play
Are you interested in learning how to play Lucky Lucifer? Great! We've made sure that you can get started quickly thanks to the short guide below. You'll be able to play Lucky Lucifer by Slotmill in no time if you decide to follow these simple steps:
Load Lucky Lucifer and tap anywhere on the screen to continue
Look for the three lines in the left corner. Clicking them will take you to the paytable
Read about the features and game rules. You can also see symbols and payouts
Click on the volume icon if you want to turn off the music/sound effects
Use Burst Mode if you want to try the innovative autoplay feature by Slotmill
Ready to play Lucky Lucifer? Click the spin button in the bottom right corner
Lucky Lucifer has 5 reels, 4 rows, and there are a total of 40 paylines you can hit winning combinations on. In order to get a payout in this game, a minimum of 3 identical symbols need to appear from the leftmost reel to the rightmost reel. An exception to this rule is the bonus symbol of the potion. It can appear on reels 1, 3, and 5 and still reward you.
The standard bet size in Lucky Lucifer is €1. To adjust the size of your bet, use the - or + buttons on the right side of the slot. It ranges from €0.10 per spin up to a total of €30 per spin.
Lucky Lucifer RTP and Volatility
Lucky Lucifer comes with an RTP of 96.35% and has a gameplay of high volatility.
Lucky Lucifer appears to have a locked RTP being at 96.35%. This is great news because it means that, first of all, there are no RTP ranges and the slot machine follows the industry standard. You'll need to expect gameplay of high volatility if you play the slot machine. This means that there's a combination of high-risk/high reward in Lucky Lucifer. Some players like it and some players don't.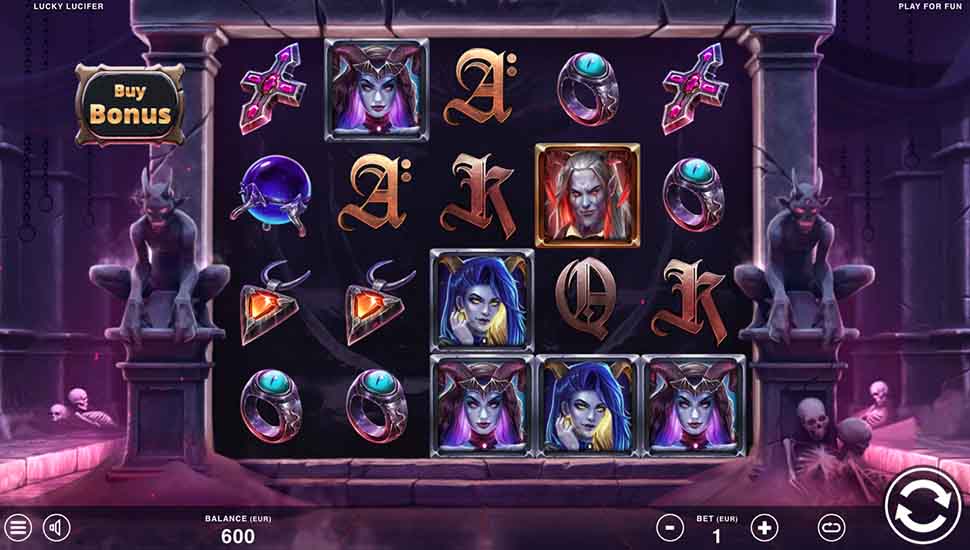 The slot machine has a theme about Satan himself – Lucifer. You'll spot him on the reels with molten devil horns, wings, red eyes, sharp nails, and long gray hair. He has royal clothes that seem to be from the 1800s. In our opinion, Slotmill has done an amazing job when it comes to the overall design but also the graphical details of the characters and the symbols.
While spinning the reels you can hear monsters making noises. You can also hear demons screaming and laughing – it might be Lilith and/or Mora that are characters in this slot. The mystical soundtrack being played in the background adds to the excitement of Lucky Lucifer. You'll most certainly enjoy many of the other sound effects you can hear in this slot as well.
Lucky Lucifer has tons of symbols. All of them are suitable for the theme. You'll see Lucifer himself, a skull with horns, and two demons called Lilith and Mora. There are also symbols of a divination sphere, a cross, a necklace, a treasure chest, a vial of potion, and a ring.
You'll find that the most valuable symbols in Lucky Lucifer are the vial of potion (bonus symbol) and the skull with the horns (wild symbol). The symbol that can award the most money with 5 identical ones appearing on the payline is the symbol of Lucifer himself worth 30x.

Mobile Compatibility
There are many smart people behind Slotmill. That's why they've ensured that all of the games in its portfolio are compatible with mobile phones. This was an important direction to take because many players enjoy gambling on such devices. You can therefore look forward to playing Lucky Lucifer on a mobile phone, either in the comfort of your own home or on the go.
About Slotmill
Slotmill is in cooperation with quite a few casinos. This is because of their professionalism and ability to create innovative slot machines. Some of their most popular titles are Neon Dreams, Vegas Gold, Three Samurai, Sands of Eternity, Thunder Wheel, Drunken Sailors, and Outlaws.
Bonus Rounds & Free Spins
Wild Symbol
The skull with the demon horns is the wild symbol in Lucky Lucifer. Not only can it substitute for all the other symbols for payline wins but it'll randomly turn into a trailing wild which will award 1 to 7 wild symbols in adjacent positions. Wilds can only appear in the base game.
Bonus Game
The Lucifer's Luck bonus feature will be triggered if you land a total of 3 bonus symbols on reels 1, 3, and 5. You'll start the bonus feature with 3 lifelines, basically 3 lives. A lifeline will be used if a new symbol does not appear after a spin. If a lifeline symbol with +1 appears during the bonus feature, then you'll be rewarded with an additional life.
As long as new symbols appear, the bonus feature will continue. The bonus feature will end when all positions have been filled, all of your lifelines have been lost, or when the maximum payout has been reached. This can potentially be a total of 10,000x your bet size.
During the bonus, multipliers will be accumulated as you play. The aggregated multiplier value will be multiplied with your total bet at the end of the Lucifer's Luck Bonus Feature. The multipliers are represented as coins in bronze, silver, and gold.
If symbols, except for lifelines, land on the pentagram hotspots, then two additional rows will be revealed. This means there'll be 10 more positions where you can land symbols. If the two additional rows have been added and symbols are placed in every single row (again with the exception of lifelines), the bonus round will end and award an extra 666x multiplier.

Additional Features During Bonus Game
Some additional things can happen during the bonus feature. Take a look below:
Lucifer – he's persistent and will collect all multiplier values after each remaining spin. He'll also be adding the aggregated value to the multiplier meter
Lilith – will collect the multiplier values on the positions directly adjacent to her position. This can be horizontally, vertically, and diagonally
Mora – will collect all multiplier values horizontally and vertically (not only adjacent)
Treasure Chest – will give a random multiplier value, an extra lifeline, or add one of the character symbols (Lucifer, Lilith, or Mora) to the reels
Lilith & Mora are persistent and will collect multipliers, but can also be collected by Lucifer.

Bonus Buy
There's no guarantee that the bonus feature will trigger as you spin the reels because it's completely based on luck. However, it's possible to buy the bonus feature for real money. It'll cost you a total of 80 times the size of your bet. It's played the same way as triggering it.

Lucky Lucifer Demo Play
All of the games in Slotmill's portfolio are available as a demo version. This means that you can play Lucky Lucifer to learn more about the slot machine. In other words, you won't have to risk your own money, and can therefore take your time until you're ready to play it for real.
Max Win
In Lucky Lucifer you can win up to 10,000 times the size of your bet.
Lucky Lucifer has a huge maximum payout. It can be won because of the Lucifer's Luck Bonus Feature thanks to multipliers, accumulating multipliers, special symbols, and more. If you fill all the rows in the bonus, you get a 666x multiplier attached to your wins. This is how you win the maximum payout of 10,000x the size of your bet in Lucky Lucifer by Slotmill.
Lucky Lucifer is a slot machine coming from Slotmill. The software provider released it on 19/04/2021. It offers wild symbols, trailing wilds, and a bonus feature with multipliers. It's possible to win up to 10,000x in Lucky Lucifer. The return to player in the slot machine is 96.35%. You also need to expect highly volatile gameplay as you spin the reels.
Lucky Lucifer Slot - FAQ
What's the most valuable symbol in Lucky Lucifer?
The most valuable symbol in Lucky Lucifer is the potion vial. This is because it can trigger the bonus feature called Lucifer's Luck. Another valuable symbol is the wild of the demon skull.
What's the biggest payout in Lucky Lucifer?
The biggest possible payout in Lucky Lucifer is 10,000x your bet. It can be won during the bonus feature called Lucifer's Luck. This is because of the potential of massive multipliers.
When was Lucky Lucifer released?
Lucky Lucifer was released on 19/04/2021 by a software provider called Slotmill.
Rate this slot and leave a review