Crash X Football Edition Free Play
By clicking I confirm that I am 18+
The demo failed to load?
Best Casinos to Play Crash X Football Edition for Real Money
This crash game was made to show how exciting it is to bet on the World Cup. So, if you want to feel this excitement, the first requirement is to be playing at the best casinos around. To this effect, our system has compiled a list of casinos where you can play this game.
This list contains the best casinos to play Crash X Football Edition for real money. If you want to play the Crash X Football Edition demo, our list of recommendations will still help. You can also check the recommended casinos for bonuses, as some offer the best promotional offers.
Crash X Football Edition Overview
If you're going to be playing this game, it is good that you get some general information regarding it. This section of the Crash X Football Edition reviews offers essential pieces of information shown below.
Mobile Compatibility
Turbo Games developed Crash X Football Edition to be mobile-compatible. So, you can play this crash game without scruples on any smartphone regardless of its screen size. The only thing that you'll need is a steady internet connection and the phone's browser.
Crash X Football Edition Design Features
The Crash X Football Edition casino game was designed with simplicity in mind. So, there are no complicated controls or features in this game. The gameplay is the main thing here, so all features focus on just that.
Crash X Football Edition RTP and Volatility
The Crash X Football Edition RTP is 95% while its volatility is unstated.
The 95% is a bit below average when you consider the fact that other crash games come with a 97% RTP. This also indicates that punters playing this game will have lower winning chances than other players. A 95% RTP also shows that players can look forward to long-term returns of €95 when they wager €100.
Crash X Football Edition is a game with unstated volatility. So players can decide which strategy they wish to be playing with.
The Maximum Amount You Can Win
Crash X Football Edition is a game that aims to push the boundaries of possibility for players. So, there is no limit to the winnings that you can get from this game. You just have to be lucky, and that's it.
How to Play Crash X Football Edition Crash Game
If you're new to the crash genre of online games, you can follow the guide below to play this game.
Choose from the casinos above and open an account with them. If you're interested in the Crash X Football Edition crash game free play, then you won't need to register at a casino
Log into your account and deposit funds that you'll use to make bets on this game
Search for "Crash X Football Edition" in the casino and launch it
You can choose to play manually or allow the game to run automatically. For manual play, you only need to input a bet amount and place your bets. When the ball gets to your desired multiplier, click "Cash Out" to collect it
If you prefer automatic play, you can select a cash-out multiplier in the "Auto Cashout" section. The game will be automatically cashed out at that value
Crash X Football Edition Features
When you play Crash X Football Edition, you'll encounter many interesting features that will liven up your gameplay.
Manual Cash Out Feature
When you're playing this game you can always use the "Cash Out" button to collect your bets. It doesn't matter if it's a manual game or an automatic game, as this button works just fine.
Every time you cash out, your stake will multiply the multiplier at that time. This will culminate in your winnings for that round.
Auto Cash Out
Players use this feature when they click on the "A" button within the "Bet" tab and set their "Auto Cashout" multiplier value. This will provide a value at which the bet will be automatically cashed out during the next round. Of course, this is based on the premise that the ball reaches the designated multiplier value.
Round History Feature
On the left-hand side of the main screen, you'll see many multipliers written from top to bottom. These values show every player's final multipliers for the last round. These multipliers are depicted in three colors, and the meaning of these colors is explained below:
Blue Color: For multipliers below 1.99x
Green Color: For multipliers between 2.00x to 9.99x
Gold Color: For multipliers above 10.00x
Current Bets Feature
This feature displays the current bets of all players in an ongoing round.
Ping Feature
The network ping is shown in the bottom right corner of the main screen. It displays the latency between the game servers and your internet-enabled device.
Theme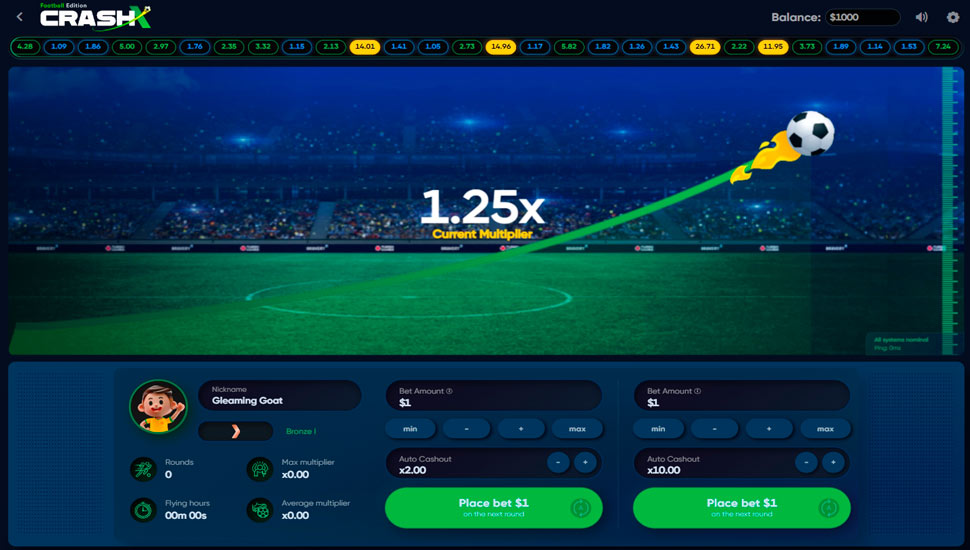 Crash X Football Edition is a football-themed crash game, and this is visible from the moment you launch it. In the background of this game is a football pitch, with many adoring fans kicking up a ruckus.
The graphics and animations for Crash X Football Edition are top-notch. So, you'll see camera flashes from the fans, a trail of flames behind the kicked football, and players moving around. While playing the game, you'll feel like you're in a stadium, as the game's soundtrack contains the sound made by fans.
Mobile Compatibility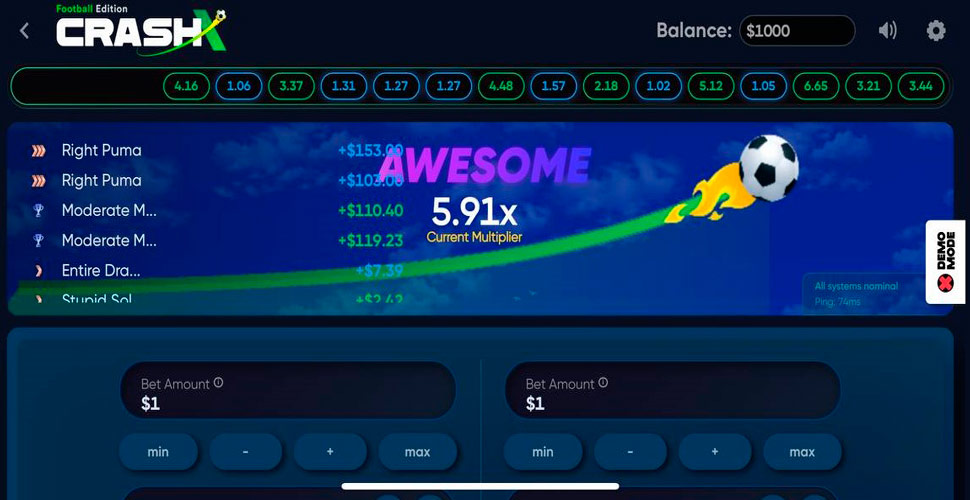 Crash X Football Edition was developed using Javascript and HyperText Markup Language 5 (HTML5) technology. This makes the game compatible with all smartphones, smart TVs, and other internet-enabled devices.
This technology has also lowered the requirements for playing this game on mobile phones. So, the only thing that you'll need is your phone's browser and a steady internet connection.
When playing the Crash X Football Edition game on a mobile device, you'll notice that all controls are clearly labeled. While playing this game, you'll notice the network ping shown in the bottom right corner.
Crash X Football Edition Bonuses
Crash X Football Edition is a game that encourages no-frills gaming. So there are no Crash X Football Edition bonus or bonus rounds to put you off.
How to Win at Crash X Football Edition
Crash X Football Edition is a pure casino game that emphasizes luck and nothing else. Regardless, there are a few strategies that you can use to improve your winning chances in the game. Some of these strategies include:
Martingale Strategy
This strategy requires players to double their bets whenever they lose and go back to the original bet when they win. Doubling the bets allows players to recover their lost funds when they eventually win. However, this strategy is only suitable for players with deep pockets.
D'Alembert Strategy
This method is quite similar to the martingale strategy, however, it's quite easy on the pocket. It requires players to slowly but steadily increase their bets when they lose. When they win, they would cover some of the losses they had incurred.
High Bet with Low Multiplier and Low bet with High Multiplier
This strategy takes advantage of the double bet feature of the Crash X Football Edition casino game. Here, players place two extreme bets, a very high one and a very low one. The high bet is cashed out shortly after the game starts while the low bet is left for later.
This would allow players to earn good winnings for the high bet since it's cashed out fast. The low bet offers good payouts whenever it's successful, and if it's not, the losses will be minimized.
The Best Crash X Football Edition Strategy
The best strategy for playing this game is the high bets with low multipliers and low bets with high multipliers. This method offers minimal losses and allows players to earn in two directions. It doesn't require much capital to use it either.
Crash X Football Edition is the football edition of Turbo Game's Crash X. This new release offers football-themed graphics and the same gameplay that players are used to. Although this game comes with a 95% RTP, this won't stop players from enjoying all that the game has to offer.
Hits
Ping rate is shown on the screen
There's an option to switch off in-game animations
Crash X Football Edition Slot - FAQ
Do I need to make a deposit to play Crash X Football Edition?
No, you can play Crash X Football Edition free when you visit the recommended casinos above. You can also play it on this page.
Where can I play Crash X Football Edition for real money?
You can choose one of the recommended casinos on our list to play this crash game for real money.
What is the best ping for this game?
The best pings are usually below 2,000ms, while those above 5,000ms are unacceptable. This is because the player's actions will be 5 seconds beyond the real-time scenarios.
Rate this slot and leave a review
Overall rating
Based on

0

reviews
No reviews found for this slot!
RATE THIS SLOT, LEAVE REVIEW AND GET 25 SJ POINTS
Log in or sign up to leave comment or rate slot