Aviatrix Free Play
By clicking I confirm that I am 18+
The demo failed to load?
Best Casinos to Play Aviatrix for Real Money
To take your plane off and get a chance to win prizes, you need to find a casino that offers to play Aviatrix for real money. What's important is to find a casino that not only offers to play this crash game but also makes sure that this platform is safe and trustworthy. It must be licensed, and regulated, guarantee fair play & payouts and have a good reputation. Besides, it's good if a casino offers some bonuses.
And right here, we have found and added a couple of such best casinos, that have a large user base, good offers for players, and operate completely legally.
Aviatrix Overview
Aviatrix features a really nice design, and a couple of fun and interesting features that you will surely love. The most interesting thing about Aviatrix is that it has some NFT elements, which allow you to customize your plane to make it stands out from the rest. Plus, this crash game also has a wonderful Loyalty Program, which is basically a progression system, where the more you play the more XP point you earn, and can later use these points to update your game.
There are some other great things about Aviatrix - its good and simple gameplay, great mobile compatibility, and a great max win.
Furthermore, Aviatrix has a good level of volatility and RTP, so let's start off by taking a look at them!
Aviatrix Crash Game RTP and Volatility
The Return to Player of the Aviatrix is 97% so after the win, the game will pay you back 97% of the sum, which is a very good deal. Other than that, Aviatrix is also a crash game with a moderate level of volatility. That means that it offers more balanced gameplay – with not as many risks as in the high-risk games, but the prizes that are a bit better than in crash games with low volatility.
However, you also have control of the gameplay and how risky it will be: if you would prefer to play it safe and don't risk it, then you can land your plane as early as possible and don't wait, however, if you want more thrill and risk and wish to try to win bigger prizes, then you can wait until more sum accumulates and you can cash out the larger win.
The Maximum Amount You Can Win
Aviatrix doesn't have a set maximum win, and, in theory, the max win here is infinite. The luckier you are and if the plane doesn't crash, the more money you can accumulate and cash out. The highest reported max win in Aviatrix, for now, has been 10,000x.
How to Play Aviatrix Crash Game
If you've played any crash games before, you will especially find it easy to play Aviatrix, since the mechanics of this game is incredibly easy to understand. You can start the game and begin to play it in just a couple of steps:
Firstly, launch the Aviatrix demo or go to the casino of your choice, make a deposit, and start the game from there;
When the game opens, you will see the screen with the game – on your right, there is a list with different categories: "Participants" where you can see other players, "My bets" which shows the history of our bets, and "Rewards". Plus, if you click on the list icon next to "Rewards" you can open the menu that has such options like leaderboards, marketplace, and how to play;
On your left, you will see the "Built" mode which is only available in the for-the-money version of Aviatrix. When you click on it, you can open the customization menu, which allows changing the appearance of your plane;
When you're ready to play, select how much you want to bet in the next round. Here, the lowest bet is €1 and the highest is €10, then click the "place a bet" option;
When the game starts and the plane starts to take off, the money that you've bet will start to accumulate, so here you have 2 options: either cash out as soon as possible, before the plane explodes, but get the lower win, or wait until the sum accumulates. The more you wait, the higher the prize you can cash out, but the more there is a risk that the plane explodes and you lose.
Aviatrix Features
Aviatrix is a unique crash game, with added NFT elements.
While there are no special bonus games in Aviatrix, this crash game does have a couple of features that make your gaming experience much more interesting. These features include:
Build Mode
When we said that Aviatrix is innovative, what we meant by that is the fact that this crash game is one of the first ones to include an NFT option. The NFT here are the planes – you can not only change how they look, but also Aviatrix allows you to upgrade your vehicles so they could give you more experience points, which then can be used to get better prizes. Moreover, Aviatrix also plans to add an update to this crash game, in which you can not only alter the appearance of the planes but can trade your NFT with other players.
Loyalty Program
The Loyalty Program is an amazing addition to Aviatrix, which rewards you for playing the game. With Loyalty Program, the more you play and the more experience points you have, the bigger prizes you will get, which are rewarded in the form of cash or game credits.
Theme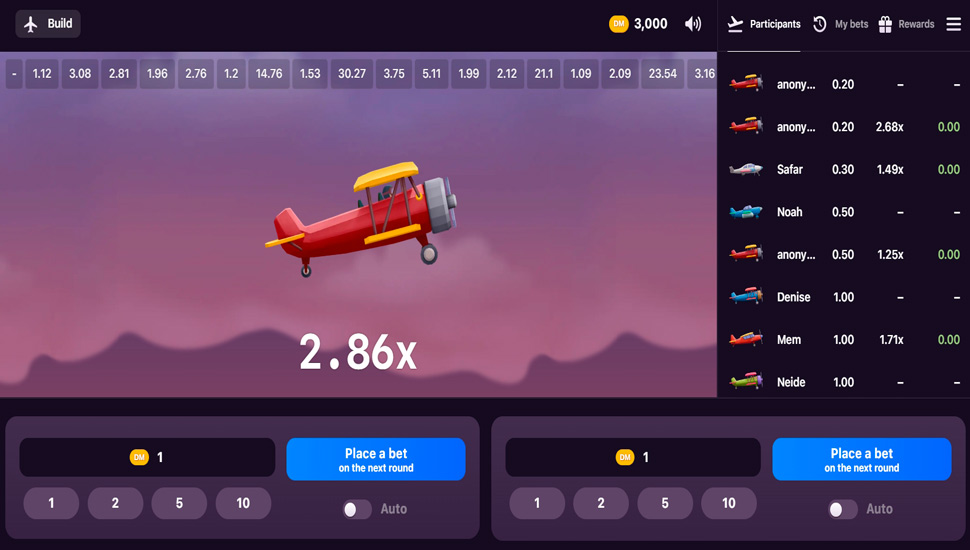 Visually, Aviatrix looks very nice and has a very appealing and well-made design. Since the central theme of this crash game is aviation, you will be playing on the runway, from which your plane and the vehicles of other players will be taking off. All this takes place in the rocky, desert environment which overall is rather charming and visually pleasing.
Plus, we are really satisfied to see so many plane customization options, thanks to which you can change the appearance of your plane and make it stand out from the rest.
Mobile Compatibility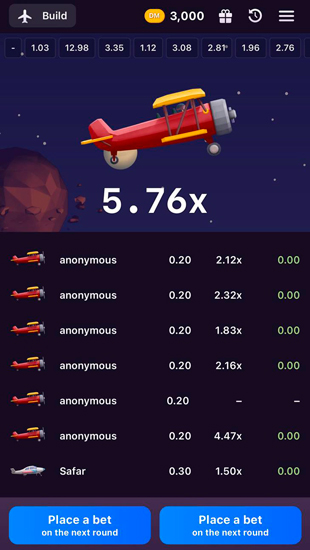 You will be able to play Aviatrix on all devices since this crash game is made with modern technologies, namely React, Tailwind, Zustand, Typescript, and React-query. Thanks to these, Aviatrix is available on mobile devices and has smooth, quick, and seamless gameplay, that doesn't change no matter what type of gadget you have or which Operating System it runs on.
Aviatrix Bonuses
Aviatrix doesn't have any bonus element to it, except for the aforementioned build mode where you can customize your plane, as well as the experience point system.
How to Win at Aviatrix
Of course, there are no set rules or guarantees of winning in crash games, since they are all games of luck - how much you can win or whether you win at all is all up to a chance and how fortunate you are today.
Nevertheless, there are still some little tips that can help you with playing crash games, for instance, it's always recommended to manage your budget and set a specific amount of how much you can spend during one gaming session & never go over that amount. This will help you save some money.
Also, in Aviatrix you can control how risky the game will be - and you can either cash out smaller sums and play it safely, or you can wait for the money to accumulate but then there is a higher risk of losing. We suggest the former as a better strategy, personally, though how you play is a personal choice. Plus, you can develop your own strategy by playing the demo!
The Best Aviatrix Strategy
Overall, the best strategy for playing Avoatrix or any other crash game is to make smaller bets. The reason for that is simple - the smaller your bet is the more stakes you can make before you run out of your set budget, and the more stakes you can make, the more opportunities you have to win some decent amount. After all, fowl in hand is better than two flyings, and oftentimes it's better to play it safe. Unless, of course, you are fine with bigger risks and are hunting really bigger prizes.
So in conclusion, we think that Aviatrix is quite an interesting, thrilling and wonderful crash game, that we had a lot of fun with, and think that you will enjoy it just as much. With interesting game mechanics, nice customization features, and a neat loyalty program, there is a lot to like about Aviatrix and we absolutely recommend this crash game for all players, regardless of their experience level! Besides, the provider Aviatrix also has a lot of plans to add even more content to the game, so we can't wait for future, exciting updates.
Hits
Option to customize and upgrade your plane
Has Daily Tournaments in which you can get prizes
FAQ
Can I pay with crypto to play Aviatrix?
Seeing how Aviatrix supports over 160 currencies, including major cryptocurrencies, yes, you can bet crypto to play.
Do I hate to buy NFT in the Aviatrix?
No, if you don't want to buy or participate in the NFT options, the game will not offer this option to you, unless you're interested.
Is Aviatrix available in other languages?
Yes, Aviatrix supports 42 languages.
Rate this slot and leave a review
Overall rating
Based on

0

reviews
No reviews found for this slot!
RATE THIS SLOT, LEAVE REVIEW AND GET 25 SJ POINTS
Log in or sign up to leave comment or rate slot